Elizabeth McGovern's career spans theatre, film, television, and music. Most recently she has played Lady Cora in the feature film adaptation of the multiple award-winning television show 'Downton Abbey', a role for which she was nominated for a Golden Globe and a Primetime Emmy and has won 3 SAG ensemble awards.
2017 saw McGovern produce her first feature film, in which she also starred – 'The Chaperone', written by Julian Fellowes and based on the book by Laura Moriarty. The film debuted in March 2019 and was released theatrically by PBS Films. Prior to that, she was featured in Bjorn Runge's Oscar and BAFTA nominated 'The Wife', with Glenn Close and Jonathan Pryce. She also starred opposite Liam Neeson in 'The Commuter'.
McGovern received an Academy Award and Golden Globe nomination for her role in 'Ragtime', her second feature film, following her debut in Robert Redford's 'Ordinary People' whilst she was still a student at Julliard. She has worked with John Hughes in 'She's Having A Baby', Curtis Hanson in 'The Bedroom Window', and Steven Soderbergh in 'King Of The Hill'. Other major film roles have included starring opposite Robert De Niro in 'Once Upon A Time In America' and  'Racing With The Moon'.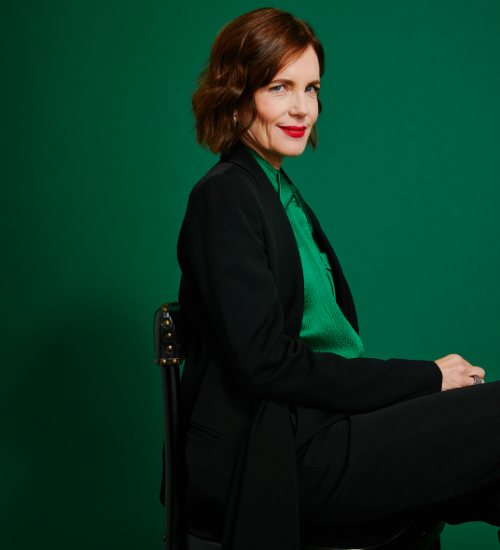 Throughout her career, McGovern has performed in the theatre in America and the U.K., winning the 2013 Will Award from the Shakespeare Theatre Company for her work in 'Hamlet'. Notable productions include Alexi Kaye Campbell's 'Sunset At The Villa Thalia' at The National Theatre, Lindsay Posner's 'God Of Carnage' at the Theatre Royal in Bath in 2018, along with a U.K. tour of the production in early 2020, 'The Misanthrope' at the Young Vic, 'Three Days Of Rain' at the Donmar and David Mamet's 'The Shawl' at the Arcola Theatre. In 2017, she returned to Broadway in J.B Priestley's 'Time And The Conways'. Recently, McGovern was seen on the stage in the West End Premiere of Kenneth Lonergan's 'The Starry Messenger', with Matthew Broderick. She also stars in 'War Of The Worlds', with Gabriel Byrne for Canal Plus and Fox. McGovern also fronts and writes the songs for the band 'Sadie and the Hotheads' and has performed globally with them. They have released three albums: 'I Can Wait', 'How Not To Lose Things' and 'Still Waiting'. McGovern's first solo album 'The Truth' was released by Universal on their Mi5 label on March 21st, 2019 and features the Hotheads along with guest artists Samuel L. Jackson, Jake Morrell, James Walsh, Smokey Hormel and Barry Walsh.